A high-speed vehicle crash and a misused child car seat can lead to an unthinkable disaster. Knowing the correct ways to use car seats at each life stage is vital to reduce injuries and prevent the death of children if involved in a crash.
While most believe they are correctly buckling in their children, auto crashes are a leading cause of death among children in the US. According to the National Highway Traffic Safety Administration (NHTSA), 46% of all child car seats are not correctly in use. In 2020, 78 children younger than eight years old died in traffic crashes in Texas; 31 were unrestrained at the time of the crash.
Common child safety seat errors include:
Installing the seat too loosely
Putting the harness straps through the wrong slots
Leaving harness straps too loose
Positioning the chest clip incorrectly
Using the wrong seat belt path  
If an injury occurs to a child in an auto accident, our team consists of Austin's best personal injury attorneys, who will navigate the legal system and get you the compensation you deserve.
Properly restraining children while riding in vehicles is an everyday, year-round responsibility. Correctly installing the car seat is the best way to keep young children safe in your vehicle. That means selecting a car seat appropriate for a child's age and size and installing it correctly. Child car seats reduce the risk of fatal injury in a crash by 71% for infants and 54% for toddlers (NHTSA, 2020).
Texas law requires all children younger than eight years old to ride in a child safety seat while in a moving vehicle. Failure to properly restrain a child can result in a ticket of up to $250.
For those needing extra assistance or peace of mind, TxDOT offers free Car Seat Safety checks year-round. To find a specialist near you, text the word "seat" and your ZIP code to 876526.
It's additionally essential to make safer choices behind the wheel. Along with wearing a seat belt and driving the speed limit, drivers should never text and never drive under the influence of alcohol or other drugs.
Protect your child with safe driving and the right car seat.
Have you been in an auto accident? Batrice Law Firm can help.
Our lead attorney, Paul Batrice, is Austin's top personal injury attorney and has won Best Lawyer in Austin, TX, for two years in a row.
Staffed with Austin's best personal injury lawyer's Batrice Law Firm is the go-to law firm. Our team's primary goal is to put our clients first. We ensure they receive the best care and treatment for any personal injury resulting from an auto accident.
To speak to a team member, fill out our contact form, or call us today for a free consultation. (512) 955-5434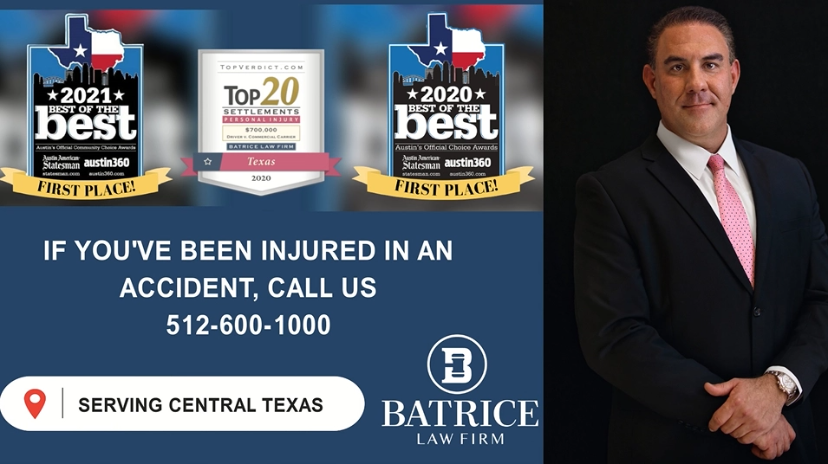 Batrice Law Firm – Austin's Best Personal Injury Attorney